Scaffolding Hire Solutions in Watford
Scaffolding Hire Solutions in Watford
For over 25 years, Kings Langley Scaffolding has been helping our customers in Watford with their scaffolding needs. Whether it's domestic scaffolding for a private customer or commercial scaffolding for a business client, we are there for you. Every scaffolding package is designed from scratch and built from the ground up to meet your specifications. In this way, we can guarantee the perfect scaffolding solution for any project in Watford.
Scaffolding contractors in Watford
As one of the most reliable scaffolding companies in Hertfordshire, we have much to offer our Watford customers. Here are some of our more popular services…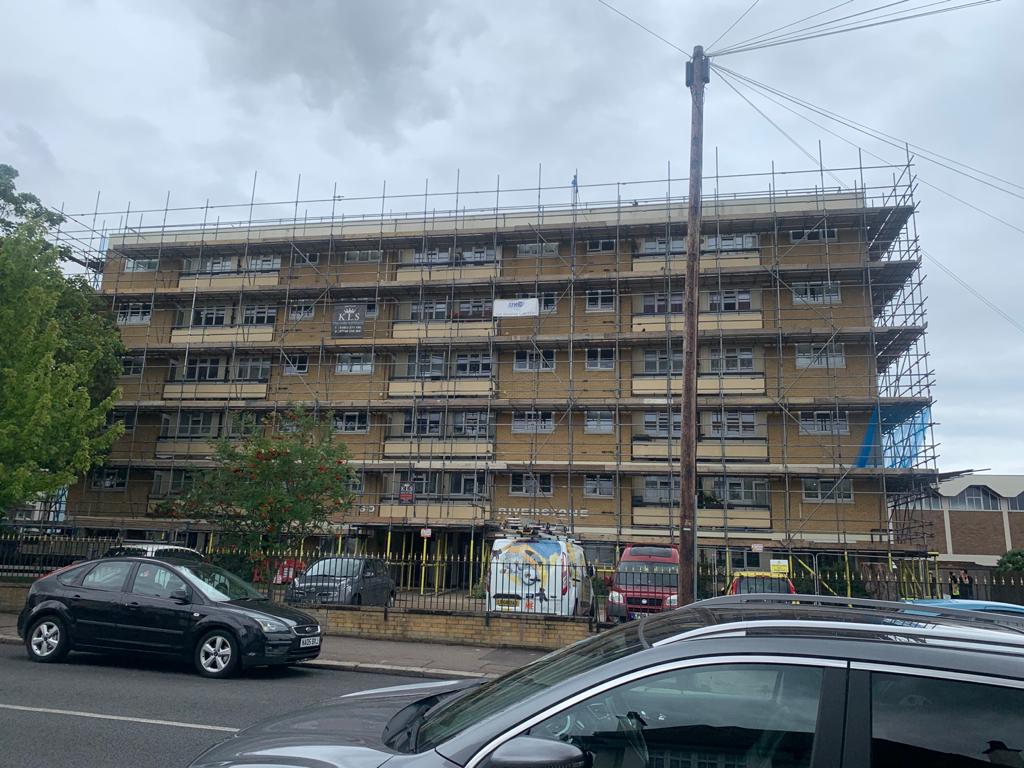 Domestic scaffolding hire in Watford
When working at height on a domestic property, it's tempting to make do with a set of ladders. Tempting… but dangerous. Whether mending a roof or painting the upper floor of your house, you should consider a domestic scaffolding package. It's safe, secure, and simple to use. We erect bespoke domestic scaffolding in Watford, suitable for any household project.
Commercial scaffolding in Watford
Commercial scaffolding is much the same as its domestic counterpart. Often the only difference is the scale. We provide essential commercial scaffolding solutions for any project, in any industry. Whatever your commercial scaffolding needs might be in Watford, we can put together the ideal package. This includes full delivery, set-up, and testing, as well as dismantling once you're done.
Your safety first
Here at Kings Langley Scaffolding, we take the safety of our Watford customers very seriously. We test each scaffolding rig that we erect, to ensure it is fit for purpose. We also apply high-visibility markings and lights, to protect passers-by. In the highly unlikely event of damage or injury, we are covered by a full public liability insurance policy.
As veteran local scaffolders, we have worked on all kinds of projects. We have more than 25 years supplying scaffolding solutions to people and businesses across Watford. We cover everything from modest house extensions to major commercial construction projects. No matter what size project you might need us for, we have the tools, materials, and experience to help.
Why Choose Kings Langley Scaffolding?
Certified and accredited scaffolders
Hiring a local scaffolding contractor means you're working with someone who knows the area. You also need to trust that they know their job, too. With Kings Langley Scaffolding, you don't need to worry about that. We have numerous industry certifications and accreditations. These include SafeContractor, the Scaffolding Association, the Contractors Health and Safety Assessment Scheme (CHAS), and more.
Your local scaffolding company
Based in the historic Hertfordshire town of Kings Langley, we are well-placed to assist our Watford customers. Indeed, our team of professional scaffolders are barely a 15 minute drive away. They have made the journey countless times over the years we have been trading. This ensures a punctual start to any domestic or commercial scaffolding project in the town.
Experienced local scaffolders
Kings Langley Scaffolding has been in business for more than 25 years. In that time, we have provided high-quality scaffolding solutions for commercial clients and domestic customers alike across Watford. Our team of highly-trained scaffolders each brings years of expertise with them to every job. Between them, they have decades of experience in the local scaffolding trade.
For commercial scaffolding and domestic scaffolding in Watford, call your local scaffolding company. Contact Kings Langley Scaffolding on
01923 271156
for a free, no-obligation quote.