Domestic Scaffolding Hire Solutions
Domestic Scaffolding Hire Solutions in Hertfordshire
For over a quarter of a century, Kings Langley Scaffolding has provided first-rate domestic scaffolding solutions to customers across Hertfordshire. In that time, we have earned ourselves a reputation as one of the county's most reliable scaffolding companies. Our domestic scaffolding hire packages are perfect for all kinds of home improvement projects. No matter how large the project or the property, we guarantee the perfect domestic scaffolding solution.
Based in Kings Langley, Hertfordshire, we are a local scaffolding company you can trust. We have our own team of professional scaffolders who attend domestic customers across the county. We cover an area of some thirty miles or so around our main office. This takes in the whole of Hertfordshire and some surrounding areas, including Watford, St Albans, Hemel Hempstead, Rickmansworth, and beyond.
Domestic scaffolding contractors in Hertfordshire
As one of the most reliable domestic scaffolding companies in the Hertfordshire region, we have much to offer our customers. Here is what you can expect from us…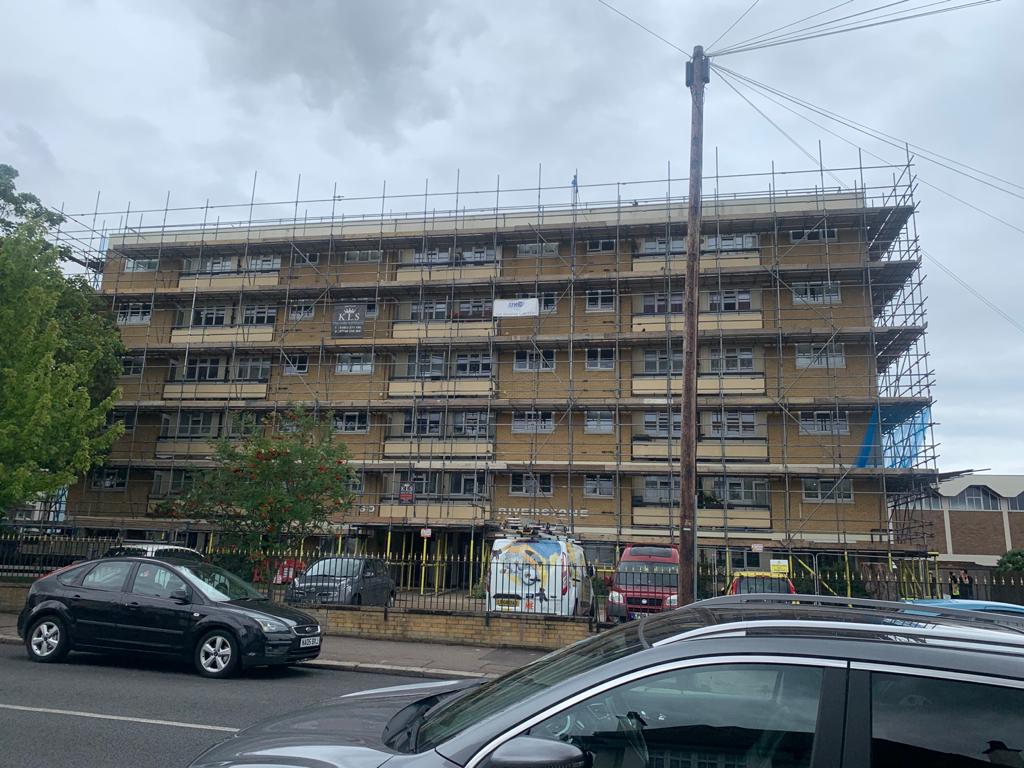 Hand-tailored domestic scaffolding solutions
We know that every home improvement or repair project is different from the last. For that reason, we design each domestic scaffolding rig from scratch. We perform a brief assessment of your scaffolding needs and create something that suits it exactly. Whether you're re-tiling a roof, or adding a house extension, we put together the right package for you.
Free, no-obligation domestic scaffolding quotes
At Kings Langley Scaffolding, we understand the need to shop around for the right quote before committing to a contract. As one of Hertfordshire's longest-serving scaffolding companies, we are confident you won't find a better service for our prices. That's why we are always happy to offer free quotes for our domestic scaffolding solutions, with no obligation to accept.
Fully-tested domestic scaffolding solutions
When you instruct us to erect a domestic scaffolding rig around your property, you get a complete package. We arrive on time with all our tools and materials and erect your scaffolding to match our initial design. We then thoroughly test all poles, joints, and platforms to ensure they are fit for purpose. This ensures a safe working environment.
At Kings Langley Scaffolding, we put the safety of our team and our domestic customers above everything else. Our professional scaffolders work to strict health and safety guidelines to ensure a solid structure. We use high-visibility markers and lights to prevent passers-by from bumping into it. We also have an extensive public liability insurance policy in place.
Why Choose Kings Langley Scaffolding?
There are plenty of reasons to choose us for your domestic scaffolding hire solutions. Here is just a few of them, based on feedback from our private customers.
Certified and accredited scaffolders
Kings Langley Scaffolding is a name you can trust to get the job done properly. We are the proud owners of several certifications and accreditations from our industry's leading regulatory bodies. We are fully-certified and registered with the Contractors Health and Safety Assessment Scheme (CHAS), the Scaffolding Association, and SafeContractor. All our certifications are available for viewing upon request.
Your local domestic scaffolding company
Our main office is based in the Hertfordshire town of Kings Langley. This puts us in the ideal position to deliver domestic scaffolding solutions to our private customers across the county. Our team regularly travels the length and breadth of Hertfordshire to erect domestic scaffolding for our private customers. This includes Watford, St Albans, Hemel Hempstead, Rickmansworth, and beyond.
Experienced local scaffolders
With a trading history going back some 25 years, we are one of Hertfordshire's most well-established domestic scaffolding companies. We have our own team of professional scaffolders, each with years of experience in the trade. Between them, they bring decades of expertise to every domestic scaffolding job we take on, ensuring quality work every time.

For domestic scaffolding available across Hertfordshire, call the county's top local scaffolding company. Contact Kings Langley Scaffolding on
01923 271156
for a free, no-obligation quote.