Scaffolding Hire Solutions in Hemel Hempstead
Scaffolding Hire Solutions in Hemel Hempstead
We have been helping the people of Hemel Hempstead with their scaffolding needs for more than twenty-five years. Not just individual people, either – we have also delivered high-quality commercial scaffolding over the same period. Our team of trained and qualified professional scaffolders regularly provide exceptional work and services across the town and beyond.
Every new scaffolding rig we assemble has been designed especially for the project at hand, based on years of experience. Whether you need industrial, commercial, or domestic scaffolding, you can rely on the team at Kings Langley Scaffolding.
Scaffolding contractors in Hemel Hempstead
As one of the most reliable scaffolding companies in Hertfordshire, we have much to offer our Hemel Hempstead customers. Here are some of our more popular services…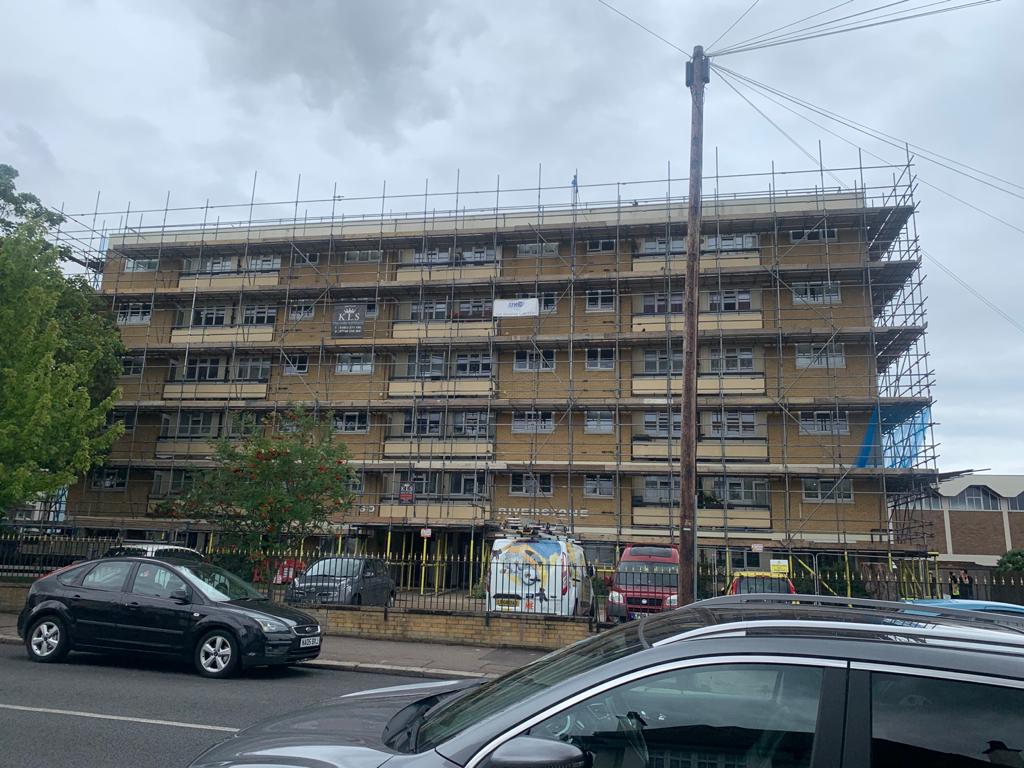 Domestic scaffolding hire in Hemel Hempstead
Whether you're adding a home extension, slating a roof, or just painting the upper floor, domestic scaffolding is important. While it may be tempting to just use a ladder, a properly-erected domestic scaffolding rig provides greater safety and comfort. We provide all our private customers with the very best in domestic scaffolding solutions, designed and built from scratch.
Commercial scaffolding in Hemel Hempstead
Our commercial scaffolding solutions are built to the same high standards as their domestic alternatives. Indeed, the only real difference is the scale. Whatever construction or renovation project you might be working on, we can supply a commercial scaffolding solution to suit. Our packages include full delivery, set-up, and testing of your scaffolding, plus dismantling it once you're done.
Your safety first
Here at Kings Langley Scaffolding, nothing is more important to us than the safety of our customers in Hemel Hempstead. Every piece of scaffolding we erect is installed by fully-trained and qualified professionals. We inspect and test the entire rig, checking poles, platforms, and joints. Only once we're satisfied with our scaffolding, do we give you the all clear.
Over the years we've been in business, we have taken on every kind of scaffolding job. Domestic customers and commercial clients across Hemel Hempstead have benefited from our experience. We have the tools, materials, and the technical ability to handle any size of project. Whether it's minor domestic job, or a major commercial one, we can deal with it.
Why Choose Kings Langley Scaffolding?
Certified and accredited scaffolders
Whomever you choose for your scaffolding work, be sure it's a local scaffolding company with the appropriate credentials. Here at Kings Langley Scaffolding, we spent years accumulating the accreditations and certifications that prove we're good at our job. These include major industry bodies like SafeContractor, the Scaffolding Association, the Contractors Health and Safety Assessment Scheme (CHAS), and more.
Your local scaffolding company
If you're looking for a local scaffolding company in Hemel Hempstead, then look no further. Kings Langley Scaffolding is based – unsurprisingly – in nearby Kings Langley. This puts us barely 15 minutes away from our Hemel Hempstead customers up the A4251. Since our team of scaffolders know the route well, you're assured a punctual delivery and assembly, every time.
Experienced local scaffolders
We have a long history serving the residents and businesses of Hemel Hempstead. We have operated in the area for over 25 years, which is impressive enough in itself. Our team of highly-trained and fully-qualified scaffolders have been part of the industry for even longer. With decades of experience under their collective belts, you're guaranteed quality work every time.

For commercial scaffolding and domestic scaffolding in Hemel Hempstead, call your local scaffolding company. Contact Kings Langley Scaffolding on
01923 271156
for a free, no-obligation quote.